When I decided to try and read through the entire original
Baby-sitters Club
series as part of my 2013 reading goal, I also thought that it might be good to write a short review of each for this blog. However, after I wrote my review for
BSC #1: Kristy's Great Idea
, I realized that it would be too tedious for me - and too annoying for you, my readers - to review all 131 original books (plus any of the Mysteries, Super Specials, and other books, if I chose to read them). So from here on in, I've decided to write a bulk review a set of 3 or 4 books at a time, keeping it simple by giving a super-short summary of each book and what I liked and/or disliked about each. Does that sound good? I hope so.
So here we go!
Book 2: Claudia and the Phantom Phone Calls
Reissued cover that came out in the mid '90s. I have this one in my collection, but much prefer the original pink cover and original artwork, which you can see here.


In this book, the girls get spooked by a string of robberies by a jewel thief nicknamed the Phantom Caller. Things get scarier when the girls start getting "prank" phone calls while they're baby-sitting - but their phantom caller is far from a jewel thief...
Indifferent
would be a good way to describe my feelings for this book - it wasn't particularly enjoyable, but it wasn't a bad story, either. What I enjoyed most was finding a reference to early '80s cable television that reminded me just how old the series
really
is:
"Boring," said Stacey. "Let's put on MTV. At least we could hear some good music."
"What's MTV?" asked Charlotte.
"Music television. Where's your cable box?"
"We don't have cable," said Charlotte. "Not yet."
...Flick, flick, flick. They looked at all the regular channels and even tried to tune in some of the UHF stations.
I also noticed that the girls had yet to establish a few routines of the club that will become more prominent in later books - the fact that Kristy always sits in Claudia's director's chair with a pencil behind her ear, for example.
Fun bit o' trivia about this book:
Actress Kirsten Dunst, who starred in
Interview with a Vampire
opposite Tom Cruise when she was only ten, was used as the model for the little blonde girl featured in the artwork on the
original classic cover
! I thought that was pretty darn cool.
_______________
Book 3 The Truth About Stacey
In this book, The BSC's reputation is at stake when some nasty eighth grade girls create a rival business called the Baby-sitters Agency. Kristy, Claudia, Mary Anne and Stacey get creative as they fight back, but do wonder if this is a fight they'll actually win. In the midst of the BSC drama, Stacey is also still coming to terms with her diabetes - and so are her parents, who seem to think that they'll find a miracle cure for their only daughter.
This was a good, strong story for both plots - how Stacey handles her parents' reaction to her diabetes, and how all four girls fight to keep the BSC from being swallowed up by their rivals, the Baby-sitters Agency. I enjoyed the book a lot. I thought Ann M. Martin did a great job informing readers about what diabetes is (and isn't), and I appreciated the girls' loyalty toward their club and how they wouldn't let anyone - even kids older than them - push them around.
_______________
Book 4 Mary Anne Saves the Day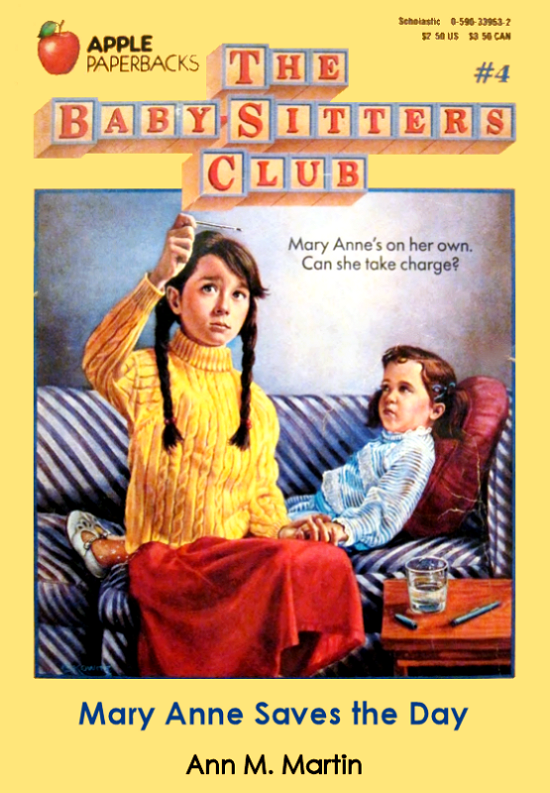 In this book, the members of the BSC get into a fight and stop speaking to each other. Mary Anne's never been a take-charge kind of girl, especially with her single father treating her like a five year old with an unreasonable list of rules which Mary Anne has never protested against. But now Mary Anne is put to the test with both her friends and her father, and in the process she gains a confidence and maturity that surprises everyone around her.
This story also introduces readers to Dawn Schaefer, who, by the end of the book, is inducted as the newest member of the BSC.
This was one of my absolute favorite BSC books as a kid because it was the first story about Mary Anne, who at the time was my favorite club member as she was quiet and shy, just like me. Going back to it as an adult, the story is still relevant, especially Mary Anne's frustration over her father's unwillingness to let her change the decor of her bedroom despite the fact that she isn't a child anymore because my own father was the same way with me - except I didn't get to take down the childish pictures on
my
bedroom wall until I was much older than Mary Anne. I would recommend this book to any tween or teen who wants their parents to treat them in a more grown-up way, because being treated like a grown up means a lot more than you think!