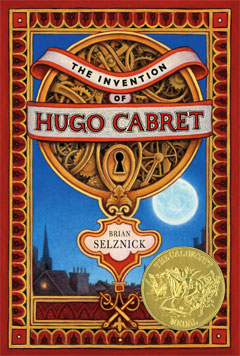 Note: I have been appointed as book reviewer for a friend's website; this is the unedited version of my very first review for her, which will be posted soon. This is not associated with BookSneeze in any way.
It's really no wonder that I grew up to be a writer, given how passionate I am for the written word. Since childhood, I've fallen in love with all sorts of books; my personal collection encompasses a range of genres, from children's authors such as Beverly Cleary and Ann M. Martin to more recent names like Suzanne LaFleur, Carolyn Mackler, and Jay Asher.
Now I can add Brian Selznick to my list.
I discovered Selznick's work about two weeks ago after one of my co-workers recommended I watch the film "Hugo," which tells the story of Hugo Cabret, a young orphan boy who lives inside the walls and tends the clocks of a Parisian train station during the 1930s. It was during the credits when I learned that the film was based on the book "The Invention of Hugo Cabret" by Brian Selznick – and knew that since I loved the movie so much, I needed to read the book as well.
Although I had initial doubts about the sheer size of the novel – a whopping 525 pages, only slightly larger than "Harry Potter and the Prisoner of Azkaban" – I quickly discovered that those pages weren't all filled with words. "The Invention of Hugo Cabret" is, in reality, a large but beautiful novel that combines a magical story with vintage photographs and movie stills as well as intricately drawn pencil sketches by Selznick. It's truly a work of art in more ways than one. It is, as described on the book jacket, a "[combination] picture book, graphic novel, and film."
Twelve-year-old Hugo Cabret is an orphan who lives inside the walls of a train station in 1930s Paris. Hugo's survival depends on anonymity; he must stay hidden for fear of being discovered by the Station Inspector and getting taken to an orphanage. So he is forced to stay hidden within the walls, stealing food to eat while maintaining the clocks of the station in complete secrecy.
But then Hugo crosses paths with the bookish Isabelle and the old curmudgeon who runs a toy booth inside the station. It is then that Hugo realizes his life – and all of his most precious secrets – are in danger of being discovered. A special notebook, a heart-shaped key, a mechanical man, and a hidden message from his late father are just some of the mysteries that provide the framework of this amazing novel, which will surely appeal to both kids and grown-ups alike. So be sure check out "The Invention of Hugo Cabret" – I guarantee that you won't be disappointed!