October is Down Syndrome Awareness Month. I am blogging every day in October as part of the "31 for 21" blog challenge.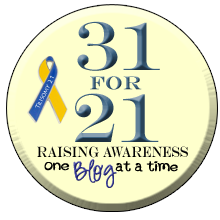 Tonight was the second, larger installment of the "Spooky Stories, Snippets and Snacks" program at the Library. It was So. Much. Fun! Twice as fun as
Friday's trial run
, because as I mentioned, we had more staff members involved and more people attending - and the combination was a total riot.
For tonight's post I'm just going to focus on the scary stories part. My boss, T.M., is part of a storytelling circle, and it still amazes me how she could recall the two stories she told tonight (one of which she'd already told on Friday, so I got to hear it twice) from memory! The story she'd told both tonight and Friday was an old Southern folktale called
The Conjure Wives
, that, quite honestly, scared me just as much tonight as it did on Friday. Click on the link to hear it for yourself and tell me in the comments what you think of it!
The other scary story that T.M. told was called
The Boo Hag
. It was more than scary - it was...disgusting. Consider yourselves lucky that I couldn't find an audio of that version of the story.
And last but definitely not least, was a scary and sad yet more entertaining story shared by our reference librarian, L.L. The book was
The Gashlycrumb Tinies
by Edward Gorey, which, if you've never heard of it, is an alphabet book in which each letter focuses on a fictional child who "meets an untimely end." It was published in 1963 and has
never
been out of print!
Click
here
to view the entire book - and remember to keep an open mind...