October is Down Syndrome Awareness Month. I am blogging every day in October as part of the "31 for 21" blog challenge.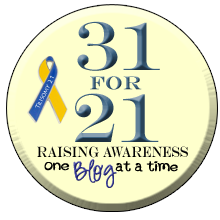 Eggos and Peanut Butter with a Side of VH-1:
a.k.a. My Top 5 Musical Memories From the '90s
As I have mentioned (a couple of times, actually) lately, I call myself a cesspool of useless information - and that includes bits of random memories from my childhood that have permanently rented space in the back of my brain. One such memory unearthed itself last night.

I made the mistake of drinking a cup of coffee after supper, and just as luck would have it the caffeine kicked in around 10 o'clock. Suddenly I was all over the map, jumping from random thing to random thing on the Internet. And then, somehow (as I don't really remember what actually started it) I ended up posting links to a bunch of old '90s music videos from YouTube to my Facebook page - which triggered this particular memory...

When I was in middle school and high school, I used to eat mini Eggo waffles with peanut butter on a snack tray in our living room in front of the TV while watching music videos on VH-1 before school in the mornings.

Yeah, it's a weird memory, but like I said, that's how it is with me. For that matter, I can also still see myself as a senior in high school, sitting on the bus on the ride home after school, listening to my cassette tape of Street Angel, my favorite Stevie Nicks album, on my Walkman. Yes, cassette. Yes, Walkman.

But I digress.


Back in the 1990s when I was in junior high and high school, VH-1 actually played blocks of music videos throughout the day. What were some of the videos I loved to watch during those early morning hours before school while I munched on those mini Eggos smothered in peanut butter? Oh, you're in for a treat! Here are just some of my favorites...
Love Shack and Roam by the B-52s...


Shiny Happy People
by R.E.M....
Groove Is in the Heart
by Deee-Lite...
The Look
by Roxette...

Countdown by Lindsey Buckingham...
Pretty much anything by WILSON PHILLIPS!

(it's all their fault that I've been a Fleetwood Mac, Beach Boys, and Mamas & Papas fan for over 20 years)
And last but not least, my ONE guilty pleasure...
Yep. I went there. And no, I'm not ashamed to admit it either! :)
So, what are some of YOUR favorite music videos / songs from when YOU were growing up?