October is Down Syndrome Awareness Month. I am blogging every day in October as part of the "31 for 21" blog challenge.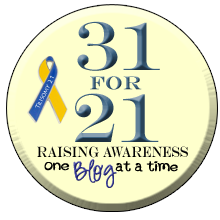 Today these little guys helped me test out the electrical outlets at my other library job, which has been undergoing some
major
renovations. Every time I plugged these mini-monsters into an outlet, they lit up nice and bright - except for one outlet upstairs, which didn't light in either socket, and one outlet downstairs, where one socket had accidentally been painted over.
Thanks for being so helpful, guys! :)